Dear Readers:
In the last installment of his monstrously good essay, author Lyttenburgh debunked the false promises of the Positivistic philosophy regarding the state of the Human Condition.  We discussed important issues such as consciousness, self-consciousness, and the huckster hype of Artificial Intelligence (AI).
In the comment section I plonked down my own 2 cents about AI, Turing machines, and the like.  It never ceases to amaze me how people keep invoking Alan Turing and flogging something (=AI) which Turing himself proved, around 1936 or so (invention of the Universal Turing Machine), was physically and mathematically impossible.  Let it go, people!  But no, valiant Knights continue to pursue this Holy Grail of Futility.  Oh well, in the course of that Monty Python-like quest — just as a few useful chemical recipes emerged from the futile attempts of alchemists; and just as some ancillary knowledge was acquired by the Grail-questing Knights — so too a few useful inventions have emerged, here and there, as by-products of the AI scam.
Be that as it may, let us return to Lyttenburg and resume his thread, or should we say, his Moving Tapehead, of thoughts, exactly where we left off:
On the painfully naïve modern iteration of Futurology:
 …
When formulating the problem, the Great Design and Expectation of the AI to come, it was assumed, that, theoretically, there will be created an AI so powerful as to simulate all the "infinite variety" of the human psyche. That this hypothetical Computer will "grow up" to the human level. But this is a fiction, a lie. Instead, looking upon humans, voluntarily becoming more and more "binary-like", some of which strive to improve the superconductivity of their head-unit CPUs by making them as empty as possibly, one might suspect, that, no – instead we ourselves might undergo a massive downgrade to the level of the computer idiot-savants.
Forking once or being a dumbass dunce?
"Man is the only animal that contemplates death, and also the only animal that shows any signs of doubt of its finality."
– William Ernest Hocking
There is once catch, though, one cop-out. Oh, these things always exist, don't they? It's only natural that our hopelessly deranged optimistic Futurologist will come to this one "exploit".  I'm talking about interconnected with the AI fantasies a religious belief about creating a prosthetic version of human "life" and "soul" in the form of "up-loading" one's personality on a digital container. Needless to say that this particular idea, which not only permits our dear Futurologists to shed away their often ugly and very imperfect meaty containers, but also to achieve a form of immortality!  Also, needless to say, this particular idea is utterly moronic and absolutely impossible.
First, we have here the same obstacles and problems while dealing with this attempt to create "artificial intelligence". To create a valid copy of something, one must understand how it works in the first place. Why is this understood and accepted by, say, car-makers, weaponsmiths, carpenters and saddlemakers, but is beyond the supposedly mighty brains of the Futurologists? At the same time – it is precisely that the phenomenon of "consciousness" cannot be understood fully.
Oh, you can, in theory, build a perfectly accurate copy of the brain as an analytical device – and get a computer working on the same principles as the brain (by the way it's far from granted that it will be more efficient than any of the modern – or even not so modern – computers). But where does consciousness come from? Is it self-generating, or what? What, are we on the same level as the "wise" folks of ages past, who till mid XVII c. sincerely believed that frogs and worms are spawned spontaneously in marshes under the rays of the sun?
And now – all attention on the hands, folks. An act of prestigitation as performed before you by the collective of the Futurology. They are, of course, Materialist minded people – this is important, remember this tidbit for future reference! As such, they simply can't believe in the existence of conscience outside of the body. Body without consciousness? Sure! Consciousness without body? No way. Literally dozens of billions of consciousness possessing humans lived and died in the course of history, and yet the "ghost stories" and "out of body experiences" belong to a particular, shameful, far away shelf in any bookstore, that, usually, is situated nowhere near the shelves devoted to the fundamental sciences.
But at the same time, being materialists, they themselves must admit that any consciousness can't exist outside the body – including the one "forked" or written down on a hard-drive. Therefore, is we are to download ("cut+paste" if you like) a person's mind onto an external container, while the "original" becomes deprived of it, this is just a very hi-tech form of the suicide – nothing more. The best anyone can hope to get as a result would be a "cyber-double", that, while parasitizing on the downloaded information from the "Original" might successfully fool the Turing Test to "pass for a human". But to anyone unbiased (i.e. for anyone who is not as blindly invested as the tunnel-vision possessing Futurologists) it's apparent, that such an "emulator" does not have a mind (unless you are too big into "smoking" behaviorism in which case… my condolences). Such an  "emulator", in the end, won't be a an immortal copy of "You" – it will be just a very expensive toy, a placebo for your grieving relatives… if you have any.
And this is very, very bad news for all those highly progressive transhumanistic Futurologists, who planned to live to the bright and shiny day of the Future to Come, when they, unashamed by the fetters of their old bodies, will finally enact their long time dream of having a three-some with their "forks" in the bodies of the up-lifted pig (transhumanists feel a certain affinity and closeness with them), a robot and your own bod-modded clone of the opposite sex than your birth one. Oh, what a bummer!
Finale
"Never let the future disturb you. You will meet it, if you have to, with the same weapons of reason which today arm you against the present."
– Marcus Aurelius
In my series of essays united into this one particular article I dedicated some effort that you, dear readers, could see for yourself behind the notoriously tattered, yet still effective magical cloak that still successfully conceals the thread-bare essence of Futurology. If there is any essence in it at all, after all – "According to your faith let it be done to you" (c)
In the future, you will keep encountering these peddlers of A Future (Wondrous and Horrific!). Hope you'd be better prepared for such future encounters. Doesn't matter what you will be promised in that Future Soon to Come about even farther Future Not to be Seen. Always look at the root causes and tell-tale signs and don't trust blindly.
One sure thing you most definitely should rebuke and call a peddler of the Future a liar, is if you will be promised something out of the Age of Miracles. No, I'm afraid – there will be no miracles in the Future, which, in itself, not a bad thing. Not being a professional parasite like any given Futurologist, I can't tell you about the Future to come – but I will tell what not to expect and plan accordingly.
In the "Pessimistic" scenario when much lauded Progress would be working slower and slower (most realistic one as of now) expect to see by mid century a world more like the one we have in the here and now – nothing amazing or mind-blowing. No "smart home" for you to live in – there will be just a lousy sensors-filled apartment with various interfaces to regulate humidity and temperature. Well, that's assuming they will be working correctly and not glitching all the way, requiring you to constantly call to (paid-by-a-second, of course!) technical services and expecting a repair brigade to fix this or that issue in a week or two.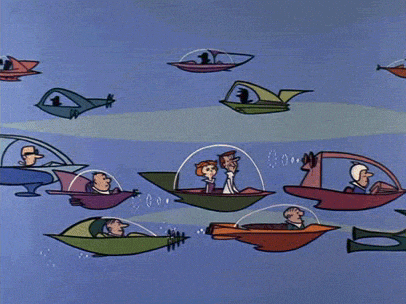 No flying cars on eco-drives either. The car, people will be driving might be even an auto-piloted one – but still powered by the gasoline, or by electricity, produced by the burning of fossil fuel. There will be more electronic components in the car compared to the one you might be driving now, meaning that you still will be using barely a 10% of the available options… while being totally, blissfully unaware, that the controls of your car could be overridden at any time by the interested parties to arrange an "accident". Oh, and no quality roads for you – building and then maintaining roads is an old racket, so expect to still drive on a pit-marked excuse of a road, ready to put your car out of misery any moment now.
But most of all – don't expect miracles in medicine. Permanent solutions are bad for the business. So caries, flu, headache would most certainly remain – as well as 1000 and one methods of how to prevent or slightly meliorate them, as advertised by various firms and companies. Expect nothing new but re-branding, re-boots, re-starts and re-modelings of the same old trite stuff – only in Hyper-3D, with holo-interface and/or banana taste as the needs of the market dictate it.
For the "Optimistic" variant, of the Eternal Scientific Revolution to keep delivering one wonder after another, a War must happen. A War, that, given Humanity's already considerable destructive potential would leave no stone standing. And if we, Humans, by some freak accident will truly survive it not just as a species (in this scenario the living usually are envious of the dead) but as a civilization – nothing will ever prepare you for the torrent of Dreams and Nightmares, finally given form.
Thankfully, the chances of the "Optimistic" scenario are still rather low. And that's okay! After all, what is the possibility of having Dreads and Wonders unimagined of becoming a part of our shell-shocked lives, compared to simply having an opportunity to live and draw breath, while so many before predicted that we, humans, were, once again giddily striding towards extinction?
Epilogue
"According to Seth, the future ended in 1962 at the Seattle World's Fair. This was everything we should've inherited: the whole man-on-the-moon-within-this-decade, asbestos-is-our-miracle-friend, nuclear-powered and fossil-fueled world of the Space Age where you could go up and visit the Jetsons' flying saucer apartment building and then ride the monorail downtown for fun pillbox hat fashions at the Bon Marche.
All this hope and science and research and glamour left here in ruins:
The Space Needle.
The Science Center with its lacy domes and hanging light globes.
The monorail streaking along covered in brushed aluminum.
This is how our lives were supposed to turn out.
Go there. Take the trip, Seth says. It will break your heart, because Jetsons with their robot maid, Rosie, and their flying-saucer cars and toaster beds that spit you out in the morning, it's like the Jetsons have sublet the Space Needle to the Flintstones.
– Chuck Palahniuk, "The Invisible monsters"
[THE END — or is it???]