Dear Readers:
Today we continue with Lyttenburgh's essay on Futurology.  In our last installment, Lyttenburgh explained the differences between quantitative and qualitative technological advances, among various other interesting points.  Personally, I am still trying to figure out, in my head, if the cross-stitch was the precursor of the screen pixel!  But everybody, stretch those brain muscles, because here we go again with
On the painfully naïve modern iteration of Futurology:
Part II:
Progress via Stick Without a Carrot
"… the history of science is the only history which displays cumulative progress of knowledge; hence the process of science is the only yardstick by which we can measure the progress of mankind."
– Laurence J. Peter.
"Progress" is one of the most abused words of our time. One has to recall the novel "1984" by George Orwell (which absolutely anyone likes to quote, but not to read and understand) and the amazingly prophetic practice drawn from there, whence the words themselves were murdered by abbreviations and acronyms, which resulted in progressively (pun intended!) broader and broader interpretations and definitions of the words. And when a word can mean anything – it basically means nothing, and is as good as dead.
Instead of abandoning the use of the word altogether, or trying to invent your own neologisms for describing old terms, I argue that we must fight constantly in this one War, where literally all humans take active part, and where there are no bystanders – in the Semantic War.   The meaning of words is always important, because we think in words.
As could be deduced from the epigraph (or from the intro to this essay) I too understand Progress in purely quantifiable, scientific terms and criteria. Any other "broadening" of the term to be applied to, say, the social sphere is absolutely unwarranted and serves nothing but to prop with (originally, ages ago) a solid conception one's weak arguments.
Another category of people, who routinely abuse, plunder and despoil the term "Progress" of its meaning to grant a vestige of legitimacy to their incoherent rants (all in the name of scoring some points, power and influence) are, without any doubt, modern "Futurologists". They are always oh-so-ready to chart and predict its development. But do they even understand what makes Progress "tick"?
Have brain – will fear.
"Violence, naked force, has settled more issues in history than has any other factor, and the contrary opinion is wishful thinking at its worst."
– Robert A. Heinlein
It's all about War.
Progress is the marketed product advertised as something inherently Good. Enemies of Progress are cast as the Enemies of Humanity, who are On the Wrong Side of History ™. At the same time – Progress is the child of Fear, Suspicion and Violence (yes – because it IS Progress it's allowed to have 3 Parents).
Even without apocalyptic Earth-shattering WW3, our world could be described as rather battle-scarred, frightened and still bleeding in many places. A "victorious" human world, indeed! And after each "victory" it vowed more than ever to make the "Never Again" a reality for change. But the fact that all of the "victories" have been achieved due to the threat or the use of arms, is a significant, world-shaping one.
It's an undeniable fact that military necessity does stimulate the development of science and technology. What we don't realize in our everyday lives is just how much it influences such development. As I mentioned earlier when talking about aviation – a curio and a hobby that became a fad for a few enthusiasts just a decade previously, then during the 4 years of the Great War turned into a formidable factor on the battlefield, with its developments "leaked" into the civilian sphere in the form of mail and passenger planes. Come the peaceful interwar period which didn't see such stunningly fast pace of aviation development. The Free Market is Content to have Dirigibles as the go-to means of trans-Atlantic transportation – or big passenger sea ships, still willingly ignorant of the potential dangers of unrestricted submarine warfare (after all – it's not like such a danger will happen again, right?). But WW2 did change that forever – a few years gave us also military jets , which allowed the civilian sphere to apply the technology for jet airliners in the post-war years, burying the concept of transport dirigibles for good.
The same goes to all categories of the Technological Ages I've mentioned in the previous part. With atomic power it's the most obvious, no need to dwell here.  Cybernetics became a real applied science due to a combination of factors, not the least of which had been the need for better cryptographic machines during the War and more powerful computation assets for the Manhattan Project.  Space Science has the bloody foundation of von Braun's previous service to his then bosses plus the urgent need to find an alternative to the possibly non-viable idea of the intercontinental bomber as the medium of the atomic bomb delivery. No one in the 1950-70s really thought that rocket science, space exploration and interconnected sciences should be viewed primarily through the prism of "commercially profitable" lenses.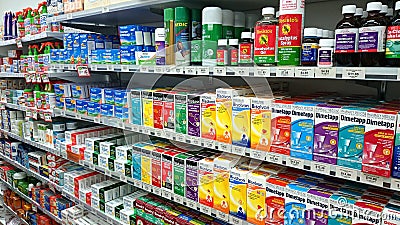 Now let's look at scientific spheres generally more or less ignored by military budget allocators. For example – the pharmaceutical industry. How about some revolutionary progress here? What-what? Over 9000 new cough candies and anti-headache tablets? That's it? That bad? No-no, you can't call it "progress", when you just rebrand your own product, change the name and the color of the pills, and now try to pass it as a "revolutionary innovation"! And, no – the extortion of money for the much needed medicines is hardly a new, good, progressive thing.  How come?  Those naïve Futurologists of ages past, be they in early XX c., 1950-s, 1970-s or late 1990s all committed the same mistake– they presumed that all spheres of science will be advancing at the same (usually – very fast) pace. They still do make this presumption, in fact. If their fine fantasy would have been true then by now, by late 2010s we ought to have the long promised cure of cancer, applicable organ cloning with the development of procedures of their safe transplantations… and a complete annihilation of late winter/early spring cold! The vast majority of these "pharma" prophecies were made before the AIDS/HIV epidemic (which Futurology failed to foresee), which changed only one thing – now we are promised a wonder cure from it too – just wait for it!
Don't like to serve the interests of the military industrial complex? Oh – too bad! There are only a few other venues to revolutionary (qualitative, as per the previous part) advances in your field of science. Unless… we are talking about a fleeting and untangential prestige factor. Let's start with the bad news – only countries firmly on the authoritarian/totalitarian pole of the political specter will be really interested in that. Only the so-called non-democratic governments with direct powers of interfering into the economy via central planning can allow themselves to fund something of dubious utility and commercial non-viability. On the other hand – if successful, self-proclaimed democracies might decide to follow suit – the presence of a non-democratic rival/antagonist as a potential "kickstarter" of the whole journey down the road of Progress is a must.
In the end, military necessity (i.e. the fear itself) and the principles of prestige (i.e. animalistic need for dominance, only with some veneer of civilization) are the chief locomotives of Progress. Any Progress. First the development must happen in the applied "violent" part of the techno-scientific spectrum (with all possible risks taken and survived), and only then, later, will it be adopted in due time by the "civilian" counterpart. But not vice versa.
[Part II of "Futurology" to be continued tomorrow]